The first question you must have right now is– what is a virtual art exhibition? Without wordsmithing definitions, it simply means taking your art event online.
Yes, the physical exhibitions are good, but imagine the number of artists and attendees in your event when everything is online. It means transcending the physical boundaries and letting technology shape the future of creatives by offering them better reach, representation, and recognition.
All your attendees have to do is stroll through a virtual art gallery, admire a masterpiece, and engage with others from the comfort of their homes. Plus, you don't need thousands of dollars to have your first solo art exhibition gallery or event. All you need is a bit of planning.
Need a few tips? Keep reading the blog until the end.
Why Your Next Art Exhibition Should Be Virtual?
Good question. Here's a quick list of reasons why it should be–
Helps You Reach a Global Audience
Well, it's a no-brainer that digital media can help you reach wider audiences. All you or attendees need is an internet connection and a passion for art.
Plus, when your exhibition is conducted online, art enthusiasts worldwide can join it, making it more accessible. As an artist, it means an entry into the global art community; for an organizer, it means diversity in the artwork.
Extremely Convenient
As mentioned before, virtual exhibitions will lower unnecessary transportation, planning, and venue expenses. The best part is that your attendees can explore your art anytime and anywhere, whether it's 2 PM in the UK or 5 AM in India.
Additionally, it's an eco-conscious step, as it eliminates the use of paperwork, wooden boards, and transportation to a significant level.
Great Way to Cut Down Costs
Planning art exhibitions means paying many bills, especially when organized in the same old way. First, you need to rent out space, arrange for transportation and installation of the artwork, and even cover promotional expenses.
On the other hand, online art exhibitions involve no such costs. You don't have to worry about finding a venue or shipping expenses; everything will be done digitally.
You can curate your solo art exhibition gallery or host an abstract exhibition from your screens. It saves everyone's money, whether they're organizers or attendees.
Steps To Host Your Next Art Exhibit Virtually
Indeed, organizing your art exhibition digitally offers an unparalleled experience to everyone. However, shifting everything digital can be an overwhelming experience at first. So, here's a list you can keep handy while planning to host your next art exhibition.
Planning Early is the Key
The first thing that best online art galleries do is PLAN, making it your starting point. We suggest planning as early as possible, even weeks or months before the event.
Here's what you need to decide:
The event's theme (abstract, still-life, figurative, etc.)
Choose artworks you want to showcase
Set exhibition goals (gain sponsorships, exposure, recognition, etc.)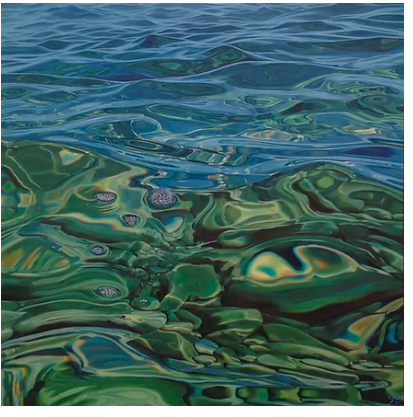 Decide a Budget
A few things never change, and that's the budget. Whether you organize things the traditional way or online, you can't skip budget setting.
You need to choose a virtual platform, check its fees, and invest in pre-event marketing.
One thing where you benefit from going digital is cutting unnecessary costs (mentioned earlier) involved in the physical event planning.
Select an Online Platform
You have endless choices, from social media platforms like Instagram, YouTube, and Facebook to dedicated virtual exhibition platforms like Artsteps.
All these platforms have features, so compare them before narrowing down your options. It'll help you decide on a place that suits your target audience and goals while supporting an interactive mechanism.
Open up Registrations & Promote
Once the above three options are checked, it's time to open registrations and start promoting your art event. You can use emails, art forums, social media, or anything that seems fit for the purpose.
Bonus Tip: When you have a list of attendees, use short videos to give them a glimpse of the behind-the-scenes action, all the planning, and artist interviews to keep the current audience engaged and invite more.
All Set for the Event?
Congratulations, you have come a long way. But before you look for a conclusion, our experts want you to read one more piece of advice. Here it is–
As the date approaches, the nervousness will start to hit. Worries are natural, but don't let it steal away your light. So, before the final day, make sure you or your team tests the virtual platform, ensure all artworks are placed correctly, and you all have a plan in case of technical glitches.
Wrapping Up!
It's 2023, and taking things online is a smart choice. With time, you need to adapt, so do it. Virtual art galleries are becoming popular because they're cost-effective, globally accessible, and convenient.
In short, there are plenty of reasons to host your next art exhibition virtually and allow everyone, from artists to art collectors, an effortless way to connect with each other.
---